Every four years, athletes from around the world come together to battle it out in the pool, on the track or in the ring (among several other places) and this time, it's all coming together in Rio de Janeiro. Last week, the 2016 Summer Olympic Games began. Every night, thanks to the five-hour time-difference, I've bundled myself up around the TV and the fireplace, ready for an exhibition of raw talent, persistence and copious amounts of training which each athlete has put into their sport. I have a bias to admit: I've focused my attention particularly towards the direction of pools, being a 'swammer' myself. However, admittedly, the killer bods of those half-naked athletes may have something to do with it too.
Over this past week or so, I have observed some interesting aspects about the Olympic Games. Hence, without further ado...let my Olympic Games list begin!
After performing a dive, Olympic divers make their way to large, bubbling Jacuzzi-like baths and dunk their chamois (less-fancily called an aqua-towel or a shammy) and shower themselves with water. I don't know about you, but I usually use my towel dry. Intrigued, I did some research. Turns out that although diving is not an equipment-heavy sport, only requiring a swimsuit (preferably), a diving board and a deep pool, divers are very dependent on a piece of poly-vinyl cloth. They use this easy-drying cloth to dry off before a dive- ensuring that they don't slip. Afterwards, they dunk the shammy to ensure that they stay wet and don't get stiff before their next dive. Also, after a while, it becomes a habit. Athletes use the shammy as a comfort blankie before facing their competitors. Although to the viewer this piece of cloth may seem like, well, a cloth, to the athlete it's far more than that- it's a teammate. If you want to know more, go
here:
2) Female gymnasts don't get periods
Have you ever wondered what happens to an athlete if they get their period during the biggest competition of their life? I've wondered about this with regards to swimming... but never gymnastics. Gymnastics involves stretches, turns and tumbles which are all quite revealing.
Nicol Ruprecht
It is common knowledge that exercise is healthy for the body... but as is true with everything, anything in excess cannot be good. Amenorrhoea is a condition experienced by dancers and gymnasts worldwide. The condition means the absence of menstrual period. This condition is particular to athletes with a low body mass who train intensely, such as gymnasts. Although gymnasts are probably grateful that no strings need to stick out from their leotards during their performances, this condition does need to be supervised by a medical professional. If you want to know about this condition in more detail, go
here:
3) Don't mess with Michael Phelps
Michael Phelps is a man who needs no introduction...but I'm going to introduce him anyways. His feet, or flippers as I like to call them, fit into a size 14 shoe, he's the most decorated Olympian of all time and a new father. Phelps made his first appearance at the 2000 Olympic Games in Sydney and has dominated in every Olympic Games since.
Fast forward 12 years from his first Olympic appearance. Phelps was defeated in the 200m butterfly event at the London Olympic Games, a race he had triumphed in since the Athens Games in 2004. Newcomer, Chad Le Clos of South Africa, touched the wall first, beating Phelps, in a staggering defeat.
Phelps, who many believe came out of retirement to defend his title in this event, came back to the pool with a vengeance. Le Clos shadow-boxed Phelps in the 'Call Room' of the aquatic center in Rio, much to the displeasure of the American Athlete who shot a stare like no other in Le Clos' direction.
Le Clos' antics and 'high-headedness' was short-lived; Le Clos finally learnt his lesson when ultimately, the King of swimming reclaimed his title as the fastest man in the 200m butterfly event with the defending champion, Le Clos, not even finishing on the podium, but instead coming fourth.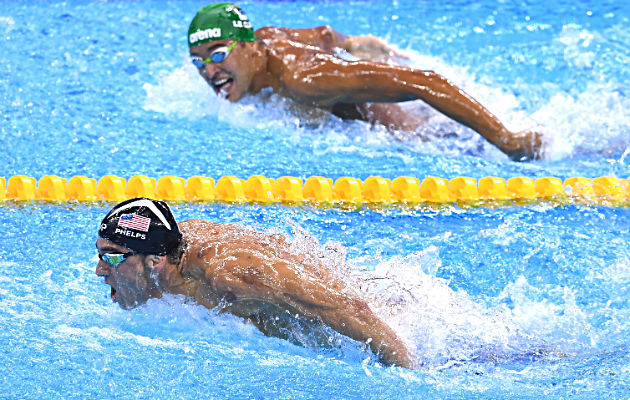 4) Gymnasts can injure themselves pretty badly
After years of training, one would think that any injuries would have occurred in training...and not at the world's biggest sporting event. If Samir Ait Said ever thought this... he'd be wrong. The French gymnast landed wrong sending his foot in the opposite direction to his leg. Imagine training your whole life for the Olympics and then having things go horribly wrong? Said was treated immediately and resigns to watching his fellow athletes on the television, for the time being. In the spirit of the Olympics, he was cheered for by the crowd as he was stretchered away.
5) The Youngest Olympian was born in 2002
Gaurika Singh, from Nepal but training in London, holds the title of the youngest Olympic athlete at the Rio Games. The 13 year old is a swimmer whose 2016 Olympic Career lasted just over 1 minute. Singh competed in the 100m backstroke event racing against the clock in a time of 1:08:45, ending 31st out of 34 swimmers. Nonetheless, this swimmer can only grow from strength to strength in the years to come.
6) Greece always walks out first, at the Opening ceremony
The Olympic Games have their origin in Ancient Greece, specifically Olympia, in the year 776 B.C. However, the modern games, as we know it came about in 1896. To pay homage to the creators of this event, Greece always walks out first at the Games, proceeded by the other competing countries. To this day, one is able to visit Olympia and set foot on the tracks, which held these Games all that time ago. One is also able to witness the lighting of the Olympic torch which travels the globe making its way to the host nation, from Greece.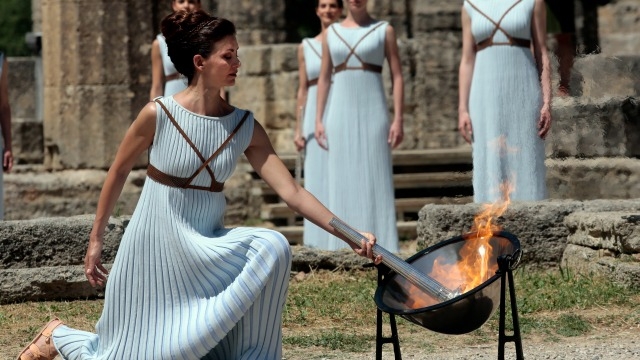 7) If Phelps were a country....
I briefly mentioned before that Phelps is the most decorated Olympian of all time... but I didn't tell you how decorated he really is. Phelps currently has 21 gold medals, 2 silver medals and 2 bronze medals. He surpassed Larisa Latynina,the previous record-holder, who won 18 Olympic medals in her career, 9 of which were gold, at the 2008 Beijing Olympics. If Phelps were a country, all his medals place him 40th (ahead of 185 countries) in all the medals won by all the countries over all the Olympic Games.
8) There is a refugee team competing
The team of 10 are competing in events ranging from swimming, to judo or athletics. All athletes apart of this team were victims in the latest migration trend which saw thousands flee from their countries in hopes of a better life. The athletes are all competing under the Olympic flag.
9) This isn't the first time a hijab has been worn at the Games
Ibtihaj Muhammed has become the first athlete from the US to wear a hijab at the Olympic Games. The fencer wanted to aimed to break established conventions and norms for Muslim woman. However, the first athlete to ever compete in a hijab was Wojdan Ali Seraj Abdulrahim Shahrkani from Saudi Arabia, who competed in Judo at the 2012 Olympic Games
Did anything else catch your eye- maybe even an athlete- whilst watching the Games? If so, I'd love to hear about it!
Till next time-
Steph