Photographs are fascinating concepts. These photo-chemical reactions have the ability to teleport a viewer back into a certain time, which they were apart of, or not. Similarly, a photograph has the potential to evoke emotion in the viewer based on the complex, or simple, subject matter of the image. Well-placed subject matter, whether intentionally done, or not, in a photograph can captivate one's eyes and leave behind an indent in one's soul, like these images have done for me.
I stumbled upon the first historical photograph like a boy running through the untinctured shrubbery of a park- by accident. What started as a late night Google Search for something completely unrelated, ended up with myself scouring South Africa's National Heritage Council's website, and that's where I found this:
South Africa was placed on the map when the Witwatersrand Gold Rush took place, in the mid 20th century. Miners from across the globe quickly travelled to Johannesburg to swoop in on what minerals our unhandled earth had to offer. Several years later, building were being erected to support the bustling, new city.
One of South Africa's biggest bank, which still thrives today, Standard Bank, moved its headquarters 54km in an easterly direction, from Pretoria to Johannesburg. Johannesburg began to grow exponentially, and so did Standard Bank. In a board meeting, one morning in 1962, it was decided that their current building was too small to accommodate a growing business like theirs, and decided to move.
The new 'home' of Standard Bank was designed by Professor Helmut Hentrich, an architect from Dusseldorf. To this day, the building is still described as a 'hanging building'. The then mega-structure measures 139.60m (524 feet) tall from the ground level; The 27 storey skyscraper, for its time, was built from the top downwards, defying gravity and South African perceptions of how a building should be constructed. A central concrete core allows for beams and concrete to extend from it, supporting the structure. A crane, perched above the central concrete core, slowly pulled the floors into place, and meticulously made its way downwards, until the buildings completion in 1970.
Standard Bank went on to reside at 78 Fox Street up until 1990. Since then, another board meeting dictated a larger building for a constantly growing company.
I've often seen cement trucks sluggishly creeping along the highway due to the mass that it carries. It is incredible for me to see this truck hoisted above the city, as men in suits (possibly the project managers) watch on, alongside the shorter Joburg skyline.
The next image captured my attention for a different reason: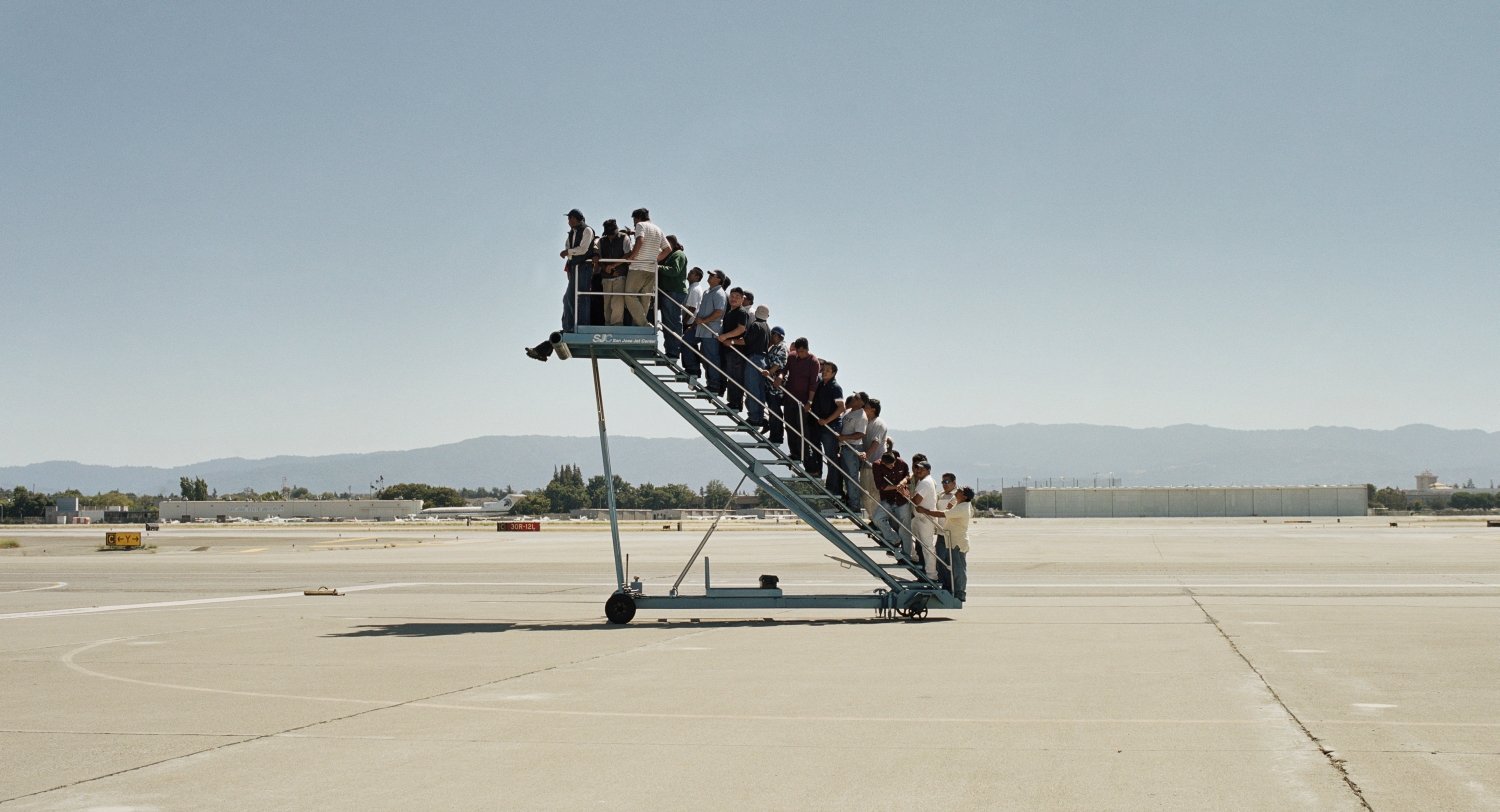 This image is a screenshot from a video created in 2007 by Adrian Paci called Centro di Permanenza Temporanea, which means centre for temporary residence. The people on top of the ladder, which is synonymous with boarding an airplane for those who know of the luxury, are migrants or refugees, except they escalate the ladder only to be met with nothingness, in place of where an aiplane should meet them.
To me, this image means a dead end. These migrants are waiting, hoping, for a better life, but that opportunity doesn't meet them. This video was produced in 2007. Currently, the world is facing unprecedented mass-migration of people. This image is still relevant 9 years later due to ongoing crisis in several countries, globally.
To see the full story and more images about the Standard Bank building and photography of it under constructed click
here: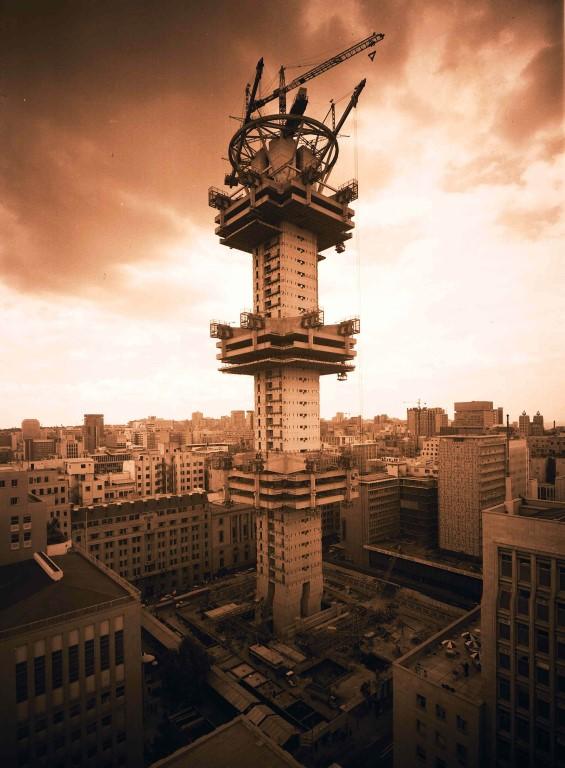 To see the full video on migration go
here:
Let me know if you've evr seen an image that has left an impression on you, like these have left upon me.
Till next time-
Steph